My own equipment
I began observation with a small non-motorized basic telescope (T115/900) on which I have adapted a webcam. Subscribed to the commission of double stars of the French Astronomy Society (SAF) I undertook to observe and measure visual double stars first with an eyepiece and a spider's thread using the transit method with a chronometer and then I 'have used a webcam and the software "Reduc" designed by Florent Losse to perform more accurate measurements.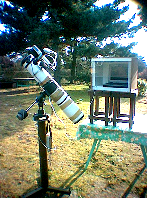 Reaching observational limits of telescope T115, I decided to build a more bigger telescope, I first cut the mirror of 207 mm diameter then I realized an English mount and I installed the whole at a fixed station under cover. It was with this telescope that I discovered 3 new visual couples in Andromeda during double star identification nights in relation with Jean Dommanget of the Royal Observatory of Belgium.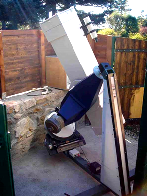 Finally I acquired a Maksutov type telescope, 180 mm in diameter installed on a "EQ6" mount and which replace the T207 in a fixed station.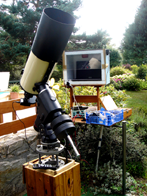 Home